StringKing Metal 2 Attack Shaft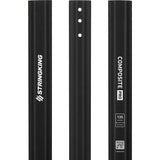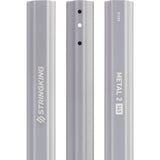 Super light shaft weighing in at only 125 grams! 
Advanced manufacturing and better materials make Metal 2 our best lacrosse shaft yet. Multiple weight offerings let you find the perfect balance of speed and strength to fit your game.
Next-generation alloy.
We traveled to 8 countries in search of the best metals in the world. The result is an alloy lighter and stronger than what's used in the aerospace, military, and automotive industries. With these advanced materials, we made the Metal 2 attack lacrosse shaft more durable without weighing you down.
Double taper technology.
We learned from over a year's worth of data how to engineer a lacrosse shaft that performs better at high impact areas. Our advanced manufacturing process makes sure the shaft is strongest in the areas we found breaks to be most common. Available on attack lacrosse shafts only.
More from this collection