Under Armour Command X - Retail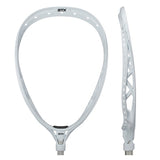 Patent Pending asymmetrical sidewall design for a rigid top rail and a flexible bottom rail.
Divergent top rail dives under opponent's stick to give you the edge.
Shortened throat allows you to get your hand closer to the ball.
Glide scoop with rounded inside edge reduces drag.
More from this collection